Thomas à Kempis
< Back to author list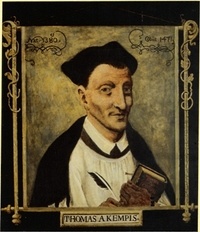 Thomas Hammerken (or Hammerlein -- both mean "little hammer") / Thomas de Kempis / Thomas Hamerken von Kempen was born at Kempen (hence the "A Kempis") in the duchy of Cleves in Germany around 1380. He was educated by a religious order called the Brethren of the Common Life, and in due course joined the order, was ordained a priest, became sub-prior of his house (in the low Countries), and died 25 July 1471 (his feast is observed a day early to avoid conflict with that of James bar-Zebedee the Apostle).
Thomas is known almost entirely for composing or compiling a manual of spiritual advice known as
The Imitation of Christ
, in which he urges the reader to seek to follow the example of Jesus Christ and to be conformed in all things to His will.