Tibullus
< Back to author list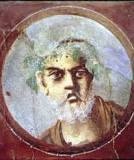 Albius Tibullus (c. 55 BC – 19 BC) was a Latin poet and writer of elegies. His first and second books of poetry are extant; many other texts attributed to him are of questionable origins.
Tibullus's chief friend and patron was Marcus Valerius Messalla Corvinus, himself an orator and poet as well as a statesman and a commander. Messalla, like Gaius Maecenas, was at the centre of a literary circle in Rome. This circle had no relationship with the court, and the name of Augustus is found nowhere in the writings of Tibullus. About 30 BC Messalla was dispatched by Augustus to Gaul to quell a rising in Aquitania and restore order in the country, and Tibullus may have been in his retinue. On a later occasion, probably in 28, he would have accompanied his friend who had been sent on a mission to the East, but he fell sick and had to stay behind in Corcyra. Tibullus had no liking for war, and though his life seems to have been divided between Rome and his country estate, his own preferences were wholly for the country life.
The loss of Tibullus's landed property is attested by himself (i. I, 19 seq.), "Felicis quondam, nunc pauperis agri" ("Fields of one once prosperous, now impoverished" ;cf. 41, 42). Its cause is only an inference, though a very probable one. That he was allowed to retain a portion of his estate with the family mansion is clear from ii. 4, 53. Tibullus may have been Messalla's contubernalis in the Aquitanian War (Vita Tib. and Tib. i. 7, 9 seq., a poem composed for Messalla's triumph), and may have received militaria dona (Vita Tib.).
Tibullus died prematurely, probably in 19,[1] and almost immediately after Virgil. His death made a deep impression in Rome, as we learn from his contemporary, Domitius Marsus, and from the elegy in which Ovid (Amores, iii. 9) enshrined the memory of his predecessor.
Books By Tibullus
Displaying all 2 products