Todd Hampson
< Back to author list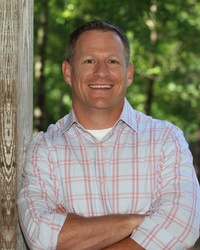 I'm Todd Hampson and I produce comically illustrated books and products that help people consider the claims of Bible prophecy so they can face today with a sense of joy, courage, clarity, and purpose (toddhampson.com).
For many people, the topic of Bible prophecy is about as inviting as sticking your face in a bees nest. I use my background as an illustrator and animation producer to smoke out the bees and help people see how awesome the honey really is.
I try to write books that make the study of Bible prophecy a little less intimidating. Rather than yell at you with a bull-horn or walk around with a sandwich board on, I hope to peel back the layers of negative connotations people have related to Bible prophecy and refocus their attention on the incredible future promises we have when we have put our faith in Christ.
I have an amazing wife who happens to be the best middle school language arts teacher on the planet (sorry other middle school language arts teachers) and three soccer-loving children who make me better every day. They mean the world to me and remind me that my success is ultimately defined by how well they thrive. When Jesus comes back or when I get a few pounds of dirt thrown on my box—whichever comes first—I want my family to know they were more important to me than any earthly accolade or accomplishment.
I'm also the founder of an animation development and production company called Timbuktoons (timbuktoons.com), a volunteer church leader at a thriving local church, and a boxer (my "hobby"). I love mission work and have been to Brazil, the Dominican Republic, Haiti, and a few other places on short term missions.
Above all, I want to leverage my life for Christ and tell as many people as possible about His amazing gift of eternal life in heaven (John 3:16) and the abundantly full life he offers here on Earth (John 10:10). When you have the cure to everything, you tend to want to share it.
For God so loved the world that he gave his one and only Son, that whoever believes in him shall not perish but have eternal life.
—John 3:16
The thief comes only to steal and kill and destroy; I have come that they may have life, and have it to the full.
—John 10:10