Tony Judt
< Back to author list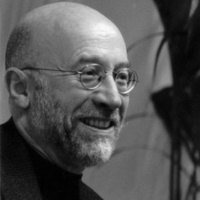 Born in 1948, Tony Judt was raised in the East End of London by a mother whose parents had immigrated from Russia and a Belgian father who descended from a line of Lithuanian rabbis. Judt was educated at Emanuel School, before receiving a BA (1969) and PhD (1972) in history from the University of Cambridge.
Like many other Jewish parents living in postwar Europe, his mother and father were secular, but they sent him to Hebrew school and steeped him in the Yiddish culture of his grandparents, which Judt says he still thinks of wistfully. Urged on by his parents, Judt enthusiastically waded into the world of Israeli politics at age 15. He helped promote the migration of British Jews to Israel. In 1966, having won an exhibition to King's College Cambridge, he took a gap year and went to work on kibbutz Machanaim. When Nasser expelled UN troops from Sinai in 1967, and Israel mobilized for war, like many European Jews, he volunteered to replace kibbutz members who had been called up. During and in the aftermath of the Six-Day War, he worked as a driver and translator for the Israel Defense Forces.
But during the aftermath of the war, Judt's belief in the Zionist enterprise began to unravel. "I went with this idealistic fantasy of creating a socialist, communitarian country through work," Judt has said. The problem, he began to believe, was that this view was "remarkably unconscious of the people who had been kicked out of the country and were suffering in refugee camps to make this fantasy possible."
Career: King's College, Cambridge, England, fellow, 1972-78; University of California at Berkeley, assistant professor, 1978-80; St. Anne's College, Oxford University, Oxford, England, fellow, 1980-87; New York University, New York, NY, professor of history, 1987--, director of Remarque Institute, 1995--.
Awards: American Council of Learned Societies, fellow, 1980; British Academy Award for Research, 1984; Nuffield Foundation fellow, 1986; Guggenheim fellow, 1989; Pulitzer Prize in general nonfiction finalist, 2006, for Postwar: A History of Europe since 1945.