Vladimir Radunsky
< Back to author list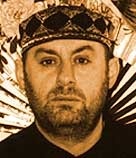 Born in the Ural Mountains of Russia, Vladimir Radunsky migrated to the United States in 1982, when he was still a relatively young man. Since then he has become well known for his brightly colored artwork and dynamic collages. Among the many children's books he has illustrated are the Candlewick Press titles HOWDI DO, BLING BLANG, and MY DOLLY, in which his vibrant images bring to life the nursery songs of folk-singing legend Woody Guthrie--tunes that appealed to him because they reminded him of songs he loved as a child growing up in Russia.
In collaboration with fellow illustrator Chris Raschka, Vladimir Radunsky wrote and illustrated a rather unique collection of tongue-in-cheek advice on a very important topic: TABLE MANNERS. Through their alter egos Dudunya (Vladimir) and Chester (Chris), the pair share their considerable wisdom in a how-to guide to mealtime behavior. The artist moved on to explore the world of shapes in SQUARE TRIANGLE ROUND SKINNY, a boxed set of fun, funky board books featuring his brilliant graphics.
"I don't pick the medium I work in, but rather it just happens," he says. "And most of the elements I use are repeated in various combinations. Recently I came across a story by Hans Christian Andersen. In it, I found this thought that pretty closely resembles my work principle: 'Ah, godfather could really tell fairy tales--they were long and plentiful. And at Christmastime he would take a thick, blank album and paste in it pictures that he cut out of books and newspapers. When he could not find a picture that fitted the story, he would draw one.'"
Vladimir Radunsky now lives in Rome, Italy.
No results
We couldn't find a match for these filters.
Please try another choose.