Will Hobbs
< Back to author list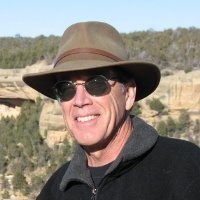 WILL HOBBS is the author of seventeen novels for upper elementary, middle school and young adult readers, as well as two picture book stories. Seven of his novels, Bearstone, Downriver, The Big Wander, Beardance, Far North, The Maze, and Jason's Gold, were named Best Books for Young Adults by the American Library Association. ALA also named Far North and Downriver to their list of the 100 Best Young Adult Books of the Twentieth Centrury. Ghost Canoe received the Edgar Allan Poe Award in 1998 for Best Young Adult Mystery.
In outdoor stories that appeal to both boys and girls, Hobbs has readers discovering wild places, sharing adventures with people from varied backgrounds, and exploring how to make important choices in their own lives. A graduate of Stanford University and former reading and language arts teacher, Will has been a full-time writer since 1990. He lives with his wife, Jean, in Durango, Colorado.
Will's books have won many other awards, including the California Young Reader Medal, the Western Writers of America Spur Award, the Mountains and Plains Booksellers Award, the Colorado Book Award, and nominations to state award lists in over thirty states.