William Dean Howells
< Back to author list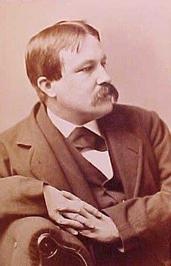 Willam Dean Howells was a novelist, short story writer, magazine editor, and mentor who wrote for various magazines, including the
Atlantic Monthly
and Harper's Magazine.
In January 1866 James Fields offered him the assistant editor role at the
Atlantic Monthly.
Howells accepted after successfully negotiating for a higher salary, but was frustrated by Fields's close supervision. Howells was made editor in 1871, remaining in the position until 1881.
In 1869 he first met Mark Twain, which began a longtime friendship. Even more important for the development of his literary style — his advocacy of Realism — was his relationship with the journalist Jonathan Baxter Harrison, who during the 1870s wrote a series of articles for the
Atlantic Monthly
on the lives of ordinary Americans.
He wrote his first novel,
Their Wedding Journey,
in 1872, but his literary reputation took off with the realist novel
A Modern Instance
, published in 1882, which described the decay of a marriage. His 1885 novel
The Rise of Silas Lapham
is perhaps his best known, describing the rise and fall of an American entrepreneur of the paint business. His social views were also strongly represented in the novels
Annie Kilburn
(1888),
A Hazard of New Fortunes
(1890), and
An Imperative Duty
(1892). He was particularly outraged by the trials resulting from the Haymarket Riot.
His poems were collected during 1873 and 1886, and a volume under the title Stops of Various Quills was published during 1895. He was the initiator of the school of American realists who derived, through the Russians, from Balzac and had little sympathy with any other type of fiction, although he frequently encouraged new writers in whom he discovered new ideas.
Howells also wrote plays, criticism, and essays about contemporary literary figures such as Henrik Ibsen, Émile Zola, Giovanni Verga, Benito Pérez Galdós, and, especially, Leo Tolstoy, which helped establish their reputations in the United States. He also wrote critically in support of American writers Hamlin Garland, Stephen Crane, Emily Dickinson, Mary E. Wilkins Freeman, Paul Laurence Dunbar, Sarah Orne Jewett, Charles W. Chesnutt, Abraham Cahan, Madison Cawein,and Frank Norris. It is perhaps in this role that he had his greatest influence. In his "Editor's Study" column at the
Atlantic Monthly
and, later, at
Harper's,
he formulated and disseminated his theories of "realism" in literature.
In 1904 he was one of the first seven people chosen for membership in the American Academy of Arts and Letters, of which he became president.
Howells died in Manhattan on May 11, 1920. He was buried in Cambridge Cemetery in Massachusetts.
Noting the "documentary" and truthful value of Howells' work, Henry James wrote: "Stroke by stroke and book by book your work was to become, for this exquisite notation of our whole democratic light and shade and give and take, in the highest degree documentary."