William James
< Back to author list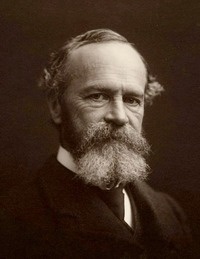 Librarian Note: There is more than one author in the Goodreads database with this name.
William James (January 11, 1842 – August 26, 1910) was an American philosopher and psychologist who was also trained as a physician. The first educator to offer a psychology course in the United States, James was one of the leading thinkers of the late nineteenth century and is believed by many to be one of the most influential philosophers the United States has ever produced, while others have labelled him the "Father of American psychology". Along with Charles Sanders Peirce and John Dewey, he is considered to be one of the greatest figures associated with the philosophical school known as pragmatism, and is also cited as one of the founders of the functional psychology. He also developed the philosophical perspective known as radical empiricism. James' work has influenced intellectuals such as Émile Durkheim, W. E. B. Du Bois, Edmund Husserl, Bertrand Russell, Ludwig Wittgenstein, Hilary Putnam, and Richard Rorty.
Born into a wealthy family, James was the son of the Swedenborgian theologian Henry James Sr and the brother of both the prominent novelist Henry James, and the diarist Alice James. James wrote widely on many topics, including epistemology, education, metaphysics, psychology, religion, and mysticism. Among his most influential books are Principles of Psychology, which was a groundbreaking text in the field of psychology, Essays in Radical Empiricism, an important text in philosophy, and The Varieties of Religious Experience, which investigated different forms of religious experience.
William James was born at the Astor House in New York City. He was the son of Henry James Sr., a noted and independently wealthy Swedenborgian theologian well acquainted with the literary and intellectual elites of his day. The intellectual brilliance of the James family milieu and the remarkable epistolary talents of several of its members have made them a subject of continuing interest to historians, biographers, and critics.
James interacted with a wide array of writers and scholars throughout his life, including his godfather Ralph Waldo Emerson, his godson William James Sidis, as well as Charles Sanders Peirce, Bertrand Russell, Josiah Royce, Ernst Mach, John Dewey, Macedonio Fernández, Walter Lippmann, Mark Twain, Horatio Alger, Jr., Henri Bergson and Sigmund Freud.
William James received an eclectic trans-Atlantic education, developing fluency in both German and French. Education in the James household encouraged cosmopolitanism. The family made two trips to Europe while William James was still a child, setting a pattern that resulted in thirteen more European journeys during his life. His early artistic bent led to an apprenticeship in the studio of William Morris Hunt in Newport, Rhode Island, but he switched in 1861 to scientific studies at the Lawrence Scientific School of Harvard University.
In his early adulthood, James suffered from a variety of physical ailments, including those of the eyes, back, stomach, and skin. He was also tone deaf. He was subject to a variety of psychological symptoms which were diagnosed at the time as neurasthenia, and which included periods of depression during which he contemplated suicide for months on end. Two younger brothers, Garth Wilkinson (Wilky) and Robertson (Bob), fought in the Civil War. The other three siblings (William, Henry, and Alice James) all suffered from periods of invalidism.
He took up medical studies at Harvard Medical School in 1864. He took a break in the spring of 1865 to join naturalist Louis Agassiz on a scientific expedition up the Amazon River, but aborted his trip after eight months, as he suffered bouts of severe seasickness and mild smallpox. His studies were interrupted once again due to illness in April 1867. He traveled to Germany in search of a cure and remained there until November 1868; at that time he was 26 years old. During this period, he