Andrew Brunson
< Back to author list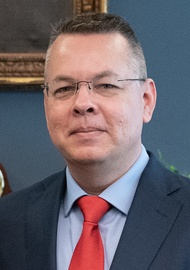 Andrew Craig Brunson (born January 3, 1968) is an American pastor and a teaching elder of the Evangelical Presbyterian Church. Brunson was an evangelical pastor of the Izmir Resurrection Church, a small Protestant church with about 24 congregants. German news service T-Online describes the church as having been held in a room in a tenement. Brunson was arrested in October 2016 in Turkey, where he had lived since the mid-1990s, for being associated with the Gülenist Terror Group (FETÖ) and the PKK as well as espionage, during the purges following the 2016 Turkish coup d'état attempt against the democratically elected government of Recep Tayyip Erdoğan (along with the arrests of tens of thousands of Gulenist Turkish military personnel, civil servants, educators, academics, dissidents, and journalists). In 2019, Brunson published a memoir about his ordeal.On September 28, 2017, Erdoğan unsuccessfully proposed exchanging Brunson for Fethullah Gülen, an Islamic preacher accused of supporting the coup attempt from his exile in the United States. On July 26, 2018, U.S. Vice President Mike Pence called on Erdoğan to release Brunson or face significant sanctions. On August 1, 2018, the United States Department of Treasury imposed sanctions on two top Turkish government officials who were involved in the detention of Brunson, Turkish Justice Minister Abdulhamit Gül and Interior Minister Suleyman Soylu. On August 9, U.S. President Donald Trump raised tariffs on Turkish products. Erdogan followed with tariffs on U.S. products. On October 12, 2018, Brunson was convicted, by Turkish authorities, on the charge of aiding terrorism, but sentenced to time served. He was released from Turkish custody and immediately returned to the United States.
No results
We couldn't find a match for these filters.
Please try another choose.