Brenda Kezar
< Back to author list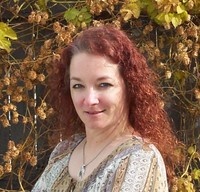 Horror and fantasy writer.
Brenda's short stories can be found in:
Daily Science Fiction.com;
Tell Me a Fable;
Silverthought Online;
AlienSkin Magazine;
Inclinations;
OG's Speculative Fiction;
Down in the Cellar;
Thema;
Emerald Tales;
Loving the Undead (From the Asylum Pub.);
Zombidays: Festivities of the Flesheaters;
Penumbra eZine;
SNM Horror Magazine;
A High Shrill Thump (Third Flatiron Publishing);
Bonded by Blood V: Doomsday Descends;
69 Flavors of Paranoia.
Her nonfiction can be found in:
Cup of Comfort for Writers;
Cup of Comfort for Dog Lovers;
Wild with Child;
Chicken Soup for the Soul: Inspiration for Writers.
No results
We couldn't find a match for these filters.
Please try another choose.