Buzz Aldrin
< Back to author list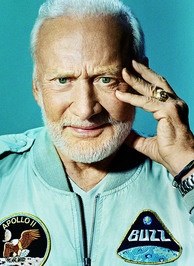 Buzz Aldrin (born Edwin Eugene Aldrin, Jr., January 20, 1930) is an engineer and former American astronaut, and the second person to walk on the Moon. He was the lunar module pilot on Apollo 11, the first manned lunar landing in history. He set foot on the Moon at 03:15:16 (UTC) on July 21, 1969, following mission commander Neil Armstrong. He is also a retired colonel in the United States Air Force (USAF) and a Command Pilot.
Aldrin was born in Glen Ridge, New Jersey, to Edwin Eugene Aldrin, Sr., a career military man, and his wife Marion (née Moon). He is of Scottish, Swedish, and German ancestry. After graduating from Montclair High School in 1946, Aldrin turned down a full scholarship offer from MIT, and went to the US Military Academy at West Point, New York. The nickname "Buzz" originated in childhood: the younger of his two elder sisters (Fay Ann) mispronounced "brother" as "buzzer", and this was shortened to Buzz. Aldrin made it his legal first name in 1988.
Buzz Aldrin graduated third in his class at West Point in 1951, with a Bachelor of Science degree in mechanical engineering. He was commissioned as a Second Lieutenant in the US Air Force and served as a jet fighter pilot during the Korean War. He flew 66 combat missions in F-86 Sabres and shot down two Mikoyan-Gurevich MiG-15 aircraft.
Subsequent to the war, Aldrin was assigned as an aerial gunnery instructor at Nellis Air Force Base in Nevada, and next was an aide to the dean of faculty at the US Air Force Academy. He flew F-100 Super Sabres as a flight commander at Bitburg Air Base, West Germany, in the 22d Fighter Squadron. In 1963 Aldrin earned a Doctor of Science degree in astronautics from MIT. His graduate thesis was "Line-of-sight guidance techniques for manned orbital rendezvous", the dedication of which read, "In the hopes that this work may in some way contribute to their exploration of space, this is dedicated to the crew members of this country's present and future manned space programs. If only I could join them in their exciting endeavors!" On completion of his doctorate, he was assigned to the Gemini Target Office of the Air Force Space Systems Division in Los Angeles before his selection as an astronaut. His initial application to join the astronaut corps was rejected on the basis of having never been a test pilot; that prerequisite was lifted when he re-applied and was accepted into the third astronaut class, the first selection for which he was eligible.
Aldrin was selected as part of the third group of NASA astronauts selected in October 1963. After the deaths of the original Gemini 9 prime crew, Elliot See and Charles Bassett, Aldrin and Jim Lovell were promoted to back-up crew for the mission. The main objective of the revised mission (Gemini 9A) was to rendezvous and dock with a target vehicle, but when this failed, Aldrin improvised an effective exercise for the craft to rendezvous with a co-ordinate in space. He was confirmed as pilot on Gemini 12. Aldrin set a record for EVA, demonstrating that astronauts could work outside spacecraft.
On July 21, 1969, he became the second astronaut to walk on the Moon, keeping his record total EVA time until that was surpassed on Apollo 14. Aldrin's first words on the Moon were "Beautiful view. Magnificent desolation."
After leaving NASA, Aldrin was assigned as the Commandant of the USAF Test Pilot School at Edwards AFB, California. In March 1972, Aldrin retired from active duty after 21 years of service, and returned to the Air Force in a managerial role, but his career was blighted by personal problems. His autobiographies Return to Earth, published in 1973, and Magnificent Desolation, published in June 2009, both provide accounts of his struggles with clinical depression and alcoholism in the years following his NASA career. His life improved considerably when he recognized and sought treatment for his problems. Since retiring from NASA, he has continued to promote space exploration.