Christopher Patterson
< Back to author list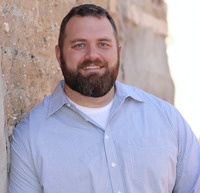 Christopher Patterson lives in Tucson, Arizona with his wife and three children. Christopher has a Masters in Education and is a teacher of many subjects, including English, History, Government, Economics, and Health. He is also a football and wrestling coach. Christopher fostered a love of the arts at a very young age, picking up the guitar at 7, the bass at 10, and dabbling in drawing and writing around the same time. His first major at the University of Arizona was, in fact, a BFA in Classical Guitar Performance, although he would eventually earn a BA in Literature and a BFA in Creative Writing.
Christopher Patterson grew up watching Star Wars, Dragon Slayer, and a cartoon version of The Hobbit. He started reading fantasy novels from a young age, took an early interest in early, Medieval Europe, and played Dungeons and Dragons. He has read The Hobbit, The Lord of the Rings, and the Wizard of Earthsea many times and heralds Tolkien, Jordan, and Martin, among others, as major influences in his own writing.
Christopher is also very involved in church, especially music and youth ministries, and is very active, having been a competitive power lifter since high school.
He thanks his grandmother for letting him waste paper on her typewriter while trying to write the "Next Great American Novel" and his parents for always supporting his dreams.
You can follow his blog by visiting his website:
www.christopher-patterson.com
You can also sign up for email updates by copying and pasting this url into your search engine:
http://eepurl.com/b5AUa1