Cleveland P. Hickman Jr.
< Back to author list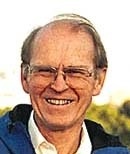 Dr. Cleveland P. Hickman Jr., Professor Emeritus of Biology at Washington and Lee University
Dr. Hickman taught at Washington and Lee from 1967 until his retirement in 1993. He specialized in animal physiology, general zoology and ecology. He is the author of three textbooks of zoology - Integrated Principles of Zoology, Biology of Animals and Animal Diversity. Integrated Principles of Zoology, currently in its 14th edition, is the world's most popular zoology text and is currently available in five languages in addition to English.
Dr. Hickman's early research concentrated on renal physiology in fish, but he later focused on the fauna of the Galapagos Islands. He is an international expert on the aquatic invertebrates of the Galapagos and has had two species that he discovered named after him.
In retirement, Dr. Hickman has remained active in his research and has published four field guides in the Galapagos Marine Life Series, the most recent, published in 2008, on corals and other radiate invertebrates.
Books By Cleveland P. Hickman Jr.