Cynthia von Buhler
< Back to author list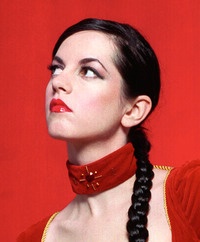 Adult Books:
Cynthia von Buhler is an American artist, performer, playwright and author. Hailed by the press as "multitalented and eccentric" (Boston Globe), a "rising star" (NY Arts), and "one of the top contemporary surrealists" (Art & Antiques), Cynthia von Buhler has made a name for herself as an award-winning and critically acclaimed fine artist, author, and illustrator. Her illustration work has won awards from the Society of Illustrators and has repeatedly appeared in American Illustration, Communication Arts and the Society of Illustrator annuals of the best illustration in America. Von Buhler's stunning, three-dimensional paintings have been displayed in galleries and museums around the world, and have been featured in books, newspapers and magazines from Rolling Stone to The New Yorker. The New York Times has written four features on her in the last five years. Von Buhler has collaborated on art projects with Steven Spielberg, Neil Gaiman and Clive Barker. She has illustrated book covers for Harry Turtledove, Scott O'Dell, Jane Yolen, Elizabeth George Speare and Lawrence Block. Her sculptures have appeared on NBC's Law & Order: Special Victims Unit, she and her work were profiled in Mary Magdalen: An Intimate Portrait on the Lifetime Network, and she was a recurring character on Discovery Channel's Oddities. Von Buhler also writes, directs and produces immersive theater. In writing about her theater productions, Forbes called her "a creative genius" and the New York Post wrote, "Von Buhler has the kind of family footnote any writer would kill for." Von Buhler was the lead singer in two seminal Boston bands, The Women of Sodom and Countess, the latter garnering her a development deal with MCA Records. Her comic work includes Evelyn Evelyn: A Terrible Tale in Two Tomes with Amanda Palmer and Jason Webley, An Evening with Neil Gaiman and Amanda Palmer, Speakeasy Dollhouse: The Bloody Beginning and Emily and The Strangers.
Children's Books:
Cynthia von Buhler (represented by Jennifer Laughran, Andrea Brown Literary Agency)
Cynthia von Buhler's picture books include BUT WHO WILL BELL THE CATS? (Houghton Mifflin Harcourt) and THE CAT WHO WOULDN'T COME INSIDE (Houghton Mifflin Harcourt), which was chosen as a Book Sense "Children's Pick" and "Best of 2006" by Parent & Child Magazine. The 3-D dioramas she created for these books have been exhibited at museums throughout the country, including The Mark Twain Museum in Hartford, CT. In addition to her own titles, she has illustrated many other books. THEY CALLED HER MOLLY PITCHER (Knopf) written by Anne Rockwell and illustrated by Von Buhler was chosen by The New York Public Library as one of "One Hundred Titles for Reading and Sharing." LITTLE GIRL IN A RED DRESS WITH CAT AND DOG (Viking) written by Nicholas Nicholson and illustrated by Von Buhler was starred in Publisher's Weekly. She illustrated Martha Stewart's story for ONCE UPON A FAIRY TALE (Viking), a book produced by Steven Speilberg. She has also illustrated dozens of young adult book covers including QUEEN'S OWN FOOL (Puffin) by Jane Yolen,THE ROAD TO DAMIETTA (Graphia) by Scott O'Dell, and reprints of two Newbery medal winners, THE BRONZE BOW (Sandpiper) by Elizabeth George Speare and THE PERILOUS GARD (Sandpiper) by Elizabeth Marie Pope. Her award-winning illustrations have appeared in thousands of publications such as The New York Times, Newsweek, The New Yorker, Atlantic Monthly, and Rolling Stone.
Books By Cynthia von Buhler