Douglas Kaine McKelvey
< Back to author list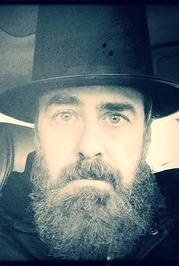 The remote descendant of Scottish horse-thieving ancestors, Douglas Kaine McKelvey has already bested the dubious achievements of his predecessors by penning five published books and penning lyrics for more than 250 songs recorded by a variety of artists including Kenny Rogers, Switchfoot, and Jason Gray.
Douglas is currently completing the manuscript for a YA sci-fi/fantasy novel and making slow progress on a companion volume to "Every Moment Holy."
McKelvey was born in New Hampshire and raised in East Texas, but now dwells in the long shadows somewhere south of Nashville with his Norwegianish wife. They have three half-Norwegianish adult daughters and two sons-in-law.
He also has a small, fearless dog that believes it can fly.