Elizabeth Boyle
< Back to author list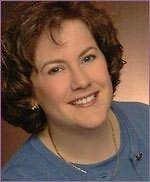 Elizabeth Boyle is the New York Times bestselling author of 27 historical romance novels and several novellas. Her first novel, Brazen Angel, won Dell's Diamond Debut Award and the Romance Writers of America's RITA Award for Best First Book. Her books are called "fast-paced," "adventurous," and "funny."
Not sure where to begin? If you love adventure, try THIS RAKE OF MINE or ONE NIGHT OF PASSION.
If you need to laugh, SOMETHING ABOUT EMMALINE, LOVE LETTERS FROM A DUKE, or THE VISCOUNT WHO LIVED DOWN THE LANE.
Want a little magic in your romance? Try HIS MISTRESS BY MORNING.
When not writing, Elizabeth enjoys knitting, gardening, travel and reading a wide variety of stories. She lives with her family in Seattle.
Sign up for her weekly newsletter, Five Things for Friday on her website. A weekly roundup of books, shows, and things to cook or laugh over, her readers love this weekly laugh.