Everett Fox
< Back to author list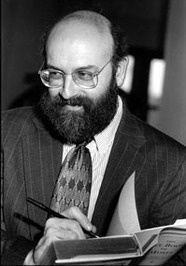 Everett Fox is a scholar and translator of the Hebrew Bible, a graduate of Brandeis University. He is currently the Allen M. Glick Professor of Judaic and Biblical Studies and director of the program in Jewish Studies at Clark University.
Dr. Fox received a B.A., M.A., and Ph.D from Brandeis University in 1968, 1972, and 1975, respectively. He has been at Clark since 1987. Dr. Fox serves as director of the program in Jewish Studies, and is also affiliated with the programs in Race and Ethnic Relations and Comparative Literature.
Dr. Fox's main scholarly focus is the rhetoric and internal coherence of the Hebrew Bible, and how they may be brought out in translation. In 1995, Everett published The Five Books of Moses, which tries to echo characteristics of the Hebrew text; in November of 1999, Give Us a King! Samuel, Saul, and David, a translation of the book of Samuel along similar lines, appeared. He is also interested in how the Bible has been transformed at each stage by generations of Israelites, Jews, and Christians. He teaches courses in which texts serve as windows to the attitudes and concerns of Jews through the ages.
Dr. Fox's activities in translation have led him to some unexpected places. He was a religious consultant on the animated film Prince of Egypt, and has been collaborating with an American-Israeli artist, Schwebel, who sets the David stories against the backdrop of 1980s Jerusalem.
Read more