Francis J. Beckwith
< Back to author list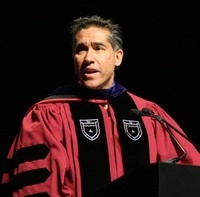 Francis J. Beckwith is Professor of Philosophy & Church-State Studies at Baylor University, where he also serves as Associate Director of the Graduate Program in Philosophy and Co-Director of the Program on Philosophical Studies of Religion in Baylor's Institute for Studies of Religion (ISR). With his appointment in the Department of Philosophy, he also teaches courses in the Departments of Political Science and Religion as well as the J. M. Dawson Institute of Church-State Studies, where he served as its Associate Director from July 2003 until January 2007.
Born in 1960 in New York City, Professor Beckwith grew up in Las Vegas, Nevada, the eldest of the four children of Harold ("Pat") and Elizabeth Beckwith. He graduated in 1974 from St. Viator's Elementary School and in 1978 from Bishop Gorman High School, where he was a three-sport letterman and a member of the 1978 Nevada State AAA Basketball Championship Team.
In 2008-09 he served on the faculty of the University of Notre Dame as the Mary Ann Remick Senior Visiting Fellow in Notre Dame's Center for Ethics & Culture. A 2002-03 Research Fellow in the James Madison Program in American Ideals and Institutions in the Department of Politics at Princeton University, Professor Beckwith currently serves as a member of Princeton's James Madison Society. He has also held full-time faculty appointments at Trinity International University (1997-2002), Whittier College (1996-97), and the University of Nevada, Las Vegas (1989-96).
A graduate of Fordham University (Ph.D. and M.A. in philosophy), he also holds the Master of Juridical Studies (M.J.S.) degree from the Washington University School of Law in St. Louis, where he won a CALI Award for Academic Excellence in Reproductive Control Seminar.
He has served on the executive committees of both the Society of Christian Philosophers (1999-2002) and the Evangelical Philosophical Society (1998-2003) as well as on the national board of the University Faculty for Life (1999-present). The 57th President of the Evangelical Theological Society (November 2006-May 2007) , Professor Beckwith served from 2005 through 2008 as a member of the American Philosophical Association's Committee on Philosophy and Law. In January 2008 he was selected as the 2007 Person of the Year by Inside the Vatican Magazine.