Gregory S. Neal
< Back to author list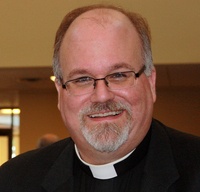 The Reverend Dr. Gregory S. Neal is a graduate of Southern Methodist University, Duke University, and Trinity College where his studies included extensive work in Biblical Studies, Languages, Systematic Theology, Worship, and the Sacraments. While having been trained to be a Christian educator, as an ordained United Methodist minister Neal's heart and soul can be found in the mission and ministry of the local church. To this end he has served for more than 25 years as the pastor of churches in North Carolina and North Texas, and is currently the Senior Pastor of First United Methodist Church in Commerce, Texas.
To take his teaching and preaching onto the world-wide-web, in 1999 Dr. Neal founded
Grace Incarnate Ministries
, which serves audio and video sermons, audio Bible Studies, written theological papers and articles, to an internet-based audience numbering in the tens of thousands. The purpose of Dr. Neal's ministry is "to share the Real Presence of Jesus Christ through Word and Sacrament, creed and deed, with all of God's children."
As a popular teacher, preacher, and retreat leader, Dr. Neal is known for his ability to translate complex theological concepts into common, everyday terms. He has spoken on many theological topics before thousands in churches and at conferences around the world, but his area specialization is in the Theology of the Sacraments. He has lead several pilgrimages to Israel, has traveled widely to teach for the General Board of Global Ministries and the General Board of Discipleship, and enjoys volunteering his time as a Chaplain for the Holland America Cruise Line. In addition to travel, his interests include Astronomy, hiking, sailing, reading, computers, and conversation. He is the author of several books, including
Grace Upon Grace: Sacramental Theology and the Christian Life
, now in its Second Edition, and
Seeking the Shepherd's Arms: Reflections from the Pastoral Side of Life.
Books By Gregory S. Neal
Displaying all 3 products