Hans Urs von Balthasar
< Back to author list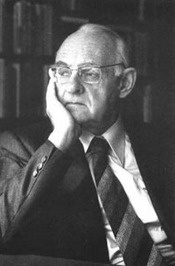 Hans Urs von Balthasar
was a Swiss theologian and priest who was nominated to be a cardinal of the Catholic Church. He is considered one of the most important theologians of the 20th century.
Born in Lucerne, Switzerland on 12 August 1905, he attended Stella Matutina (Jesuit school) in Feldkirch, Austria. He studied in Vienna, Berlin and Zurich, gaining a doctorate in German literature. He joined the Jesuits in 1929, and was ordained in 1936. He worked in Basel as a student chaplain. In 1950 he left the Jesuit order, feeling that God had called him to found a Secular Institute, a lay form of consecrated life that sought to work for the sanctification of the world especially from within. He joined the diocese of Chur. From the low point of being banned from teaching, his reputation eventually rose to the extent that
John Paul II
asked him to be a cardinal in 1988. However he died in his home in Basel on 26 June 1988, two days before the ceremony. Balthasar was interred in the Hofkirche cemetery in Lucern.
Along with
Karl Rahner
and
Bernard Lonergan
, Balthasar sought to offer an intellectual, faithful response to Western modernism. While Rahner offered a progressive, accommodating position on modernity and Lonergan worked out a philosophy of history that sought to critically appropriate modernity, Balthasar resisted the reductionism and human focus of modernity, wanting Christianity to challenge modern sensibilities.
Balthasar is very eclectic in his approach, sources, and interests and remains difficult to categorize. An example of his eclecticism was his long study and conversation with the influential Reformed Swiss theologian,
Karl Barth
, of whose work he wrote the first Catholic analysis and response. Although Balthasar's major points of analysis on Karl Barth's work have been disputed, his
The Theology of Karl Barth: Exposition and Interpretation
(1951) remains a classic work for its sensitivity and insight; Karl Barth himself agreed with its analysis of his own theological enterprise, calling it the best book on his own theology.
Balthasar's Theological Dramatic Theory has influenced the work of
Raymund Schwager
.