Hermas
< Back to author list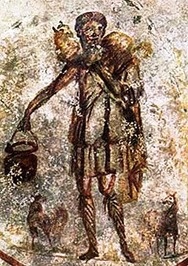 Hermas is the author of the
The Shepherd of Hermas
, a Christian literary work of the late 1st or mid-2nd century. Considered a valuable book by many Christians, and considered canonical scripture by some of the early Church fathers such as
Irenaeus
,
The Shepherd
was very popular among Christians in the 2nd and 3rd centuries.
Three ancient witnesses, one of whom claims to be contemporary, declare that Hermas was the brother of Pope Pius I, whose pontificate was not earlier than 140–155, which corresponds a the date range offered by
J. B. Lightfoot
. These authorities may be citing the same source, perhaps Hegesippus, whose lost history of the early Church provided material for
Eusebius
of Caesarea.