H.J. Witteveen
< Back to author list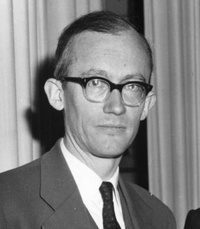 HJ (Johan) Witteveen was born on June 12, 1921 in The Netherlands into a family that became steeped in the teachings of Hazrat Inayat Khan. His father was a civil engineer and a Rotterdam city planner, and his mother was the daughter of a prominent Amsterdam political figure. Their family became actively involved in The Hague Sufi center that Inayat Khan had founded during his travels. Johan grew up in this eclectic Sufi environment and felt strongly drawn to the Sufi message. He was initiated formally onto this path at the age of 18 by the leader of the Sufi Centre in Rotterdam, Kafir Blaauw. In 1948, Mohammed Ali Khan, who had become Head of the Sufi Movement, invited Johan to become his student. Johan proceeded t o make the study of the Sufi message a lifelong endeavor. He integrated his inner life with his calling to serve humanity by completing a Ph.D. in Economics, feeling that he could best utilize the Sufi principles of love, harmony and beauty in this field. He believed that a healthy economy was needed to provide the means for humanity to enhance these core aspects of life. Dr. Witteveen's desire to apply his vocation in such a compassionate manner led him from university teaching to public service in politics, where he became a longstanding member of the People's Party for Freedom and Democracy (VVD) and served in the Dutch Senate. Eventually he was appointed Deputy Prime Minister and Minister of Finance of The Netherlands. Expanding his service yet further, Dr. Witteveen then served as the Managing Director of the International Monetary Fund from 1973-78, a position which allowed him to apply these values at the international level.
No results
We couldn't find a match for these filters.
Please try another choose.