James Martin
< Back to author list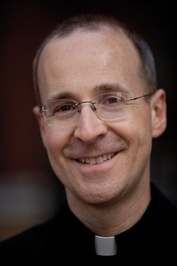 James Martin, SJ is a Jesuit priest, writer, editor at large of the Jesuit magazine
America
, and consultor to the Vatican's Secretariat for Communication.
Fr. Martin grew up in Plymouth Meeting, Pennsylvania, United States, and attended Plymouth-Whitemarsh High School. He graduated from the University of Pennsylvania's Wharton School of Business in 1982 and worked in corporate finance at General Electric for six years. Dissatisfied with the corporate world, he entered the Society of Jesus (more commonly known as the Jesuits) in 1988, and after completing his Jesuit training (which included studies in philosophy and theology, as well as full time-ministry) was ordained a priest in 1999. He received his Master's in Divinity (M.Div.) and Master's in Theology (Th.M.) from the Weston Jesuit School of Theology (now part of Boston College).
During his Jesuit training, Martin worked in a hospital for the seriously ill and a homeless shelter in Boston, with Mother Teresa's Missionaries of Charity in Jamaica, with street-gang members in Chicago, in a prison in Boston, and for two years with East African refugees in Nairobi, Kenya, with the Jesuit Refugee Service. In addition to his work at
America
magazine, Fr. Martin has written or edited more than 15 books, most of which are about spirituality and religion. He is a frequent commentator on religion and spirituality and has appeared on all the major networks, served as an expert commentator for ABC for the papal conclave that elected Pope Francis, and has written for many outlets, including the
New York Times
and
The Wall Street Journal
.
Father Martin's best known books
The Jesuit Guide to (Almost) Everything
(2010) and
Jesus: A Pilgrimage
were both
New York Times
bestsellers;
My Life with the Saints
was named a
Publishers Weekly
Best Book; and all three were winners of the Christopher Award.
He has received over 15 honorary degrees from Catholic colleges and universities, and in 2017 Pope Francis appointed him as consultor to the Vatican's Secretariat for Communication.