Johnny A. Palmer Jr.
< Back to author list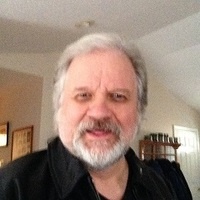 Graduated from, East Kentwood High School, in Kentwood, MI., in 1971
Served in the United States Air Force, from July, 1971 through January, 1976. Honorably discharged.
Born-again May 7, 1974.
Followed-up by the Navigator Organization.
Counselor at a Billy Graham Crusade, in Brussels, Belgium at Euro-fest in 1975.
Attended Bible conferences with the Navigators in Switzerland and Austria, in 1976.
Licensed to preach on November 16, 1977 at South Side Baptist Church, Pine Bluff, Arkansas. Later ordained.
A Bible study trip to the Holy Land, Rome, and Greece in 1977.
Minister of Outreach, at Southside Baptist Church, Pine Bluff, AR. From December 1977 to August 1978.
Married July 20, 1978. Wife's name is Ann. We have two grown children, Jeremiah and Melissa, both now married with children. [Ann taught kindergarten at, FBC Christian School, in Rogers, AR., from 1988 to May 2016].
Outreach Director, at Calvary Hill Baptist Church, Mesquite, TX. From July 1979 to November 1980
Graduated from Dallas Bible College, a B.S. in Bible and Theology, in 1982.
Pastor of Elgin Evangelical Free Church in Elgin, Texas from June 1, 1982 through August 22, 1983.
Pastor of First Baptist Church, Altheimer, AR. From August 1983 to March 1986
Pastor of Calvary Baptist Church Bentonville, AR. From April, 1986 to Present.
Nicaragua, with Extreme Missionary Adventure, with Evangelist Sam Moore, Feb. 2-9, 2013.
Daily Bible study on
https://www.facebook.com/StrugglingTh...
.
Wednesday sermon on
http://www.blogtalkradio.com/johnnyap...
Author of Spiritual Survivor man; Which Messiah will you Meet?; GPS-23; Elvis Wellness; A Manual for Revival; Proclamations of a Politically Incorrect Prophet; Hey Jude; Read Limit 30 mph; Ephesians: A Manual for Survival ; Revelation: the Revelation of Jesus Christ; Genesis: the Roots of the Nation, in three volumes; Double Solitaire with the Trinity and Luke 3 volumes, and more; To get my book, go to Amazon.com, and type in Johnny A Palmer Jr.