Kim Moog
< Back to author list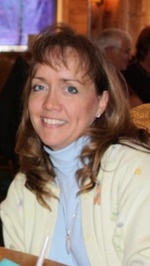 Kim Moog is a graduate of Bible Training for Church Leaders and along with her husband, Michael, she works and volunteers in several ministries in the Metro Atlanta area including high-school ministry as well as married-groups ministry. She is a mom of three grown children and grandmother of two grandchildren.
She is the author of "Food for Thought" as well "The Debt-Free Diet" and one fiction based on a true story, "When the Storms Come Early." Much like Sally Clarkson in her, "Awakening Wonder" and Sally Lloyd-Jones, Kim wants to equip parents to encourage and raise the next generation. She says, "As parents we are given both the honor and the burden of creating the greatest asset in the world: the next generation of confident, Christ-centered adults. That becomes especially important during the teen years."
When you meet Kim personally, the first thing you learn about her is that she considers coffee to be one of her four basic food groups and running late as a perfectly acceptable form of exercise. Connect with Kim at food4thought.family and on Instagram @kim_moog.