Madeleine A. Polland
< Back to author list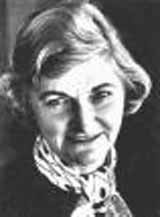 Madeleine Polland (who also wrote as Frances Adrian) was born in Kinsale, County Cork, Ireland, on May 31, 1918.
Madeleine was educated at Hitchin Girls' Grammar School, Herfordshire, from 1929 to 1937.
After leaving school, she served in the Women's Auxiliary Air Force, and shortly after leaving married Arthur Joseph Polland in 1946.
Madeleine Polland has written several books for children and many novels for adults. Her first book for young readers, CHILDREN OF THE RED KING, was published in the UK by Constable in 1960.
Books By Madeleine A. Polland