Mary Weins
< Back to author list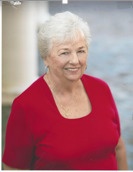 About Mary Weins
As a Pastor's kid, Mary was brought up in a strict, structured home environment. This upbringing created a harsh view of Christianity and an overwhelming fear of hell, fire, and damnation for Mary. It took several years for the real message of God's love and His plan for salvation to get through to her. Letter from Paul was written with people like Mary in mind.
This book contains Christian fiction stories intermingled with an easy-to-read Bible study/personal commentary, and questions to enhance a reader's understanding of the scripture and how it relates to their life personally.
Mary has led many Bible study groups in homes, in the church environment, and in jails; she has worked in various women's ministries and is a writer, speaker, and Bible Teacher.
Currently, Mary and her husband are retired and live in Northern California. They have 3 sons, and 5 grandchildren who live nearby. When not writing, speaking, leading Bible study groups, or studying God's Word on her own, Mary enjoys entertaining friends, cooking, and playing with her grandchildren…not necessarily in that order.
Click on maryweins.com to sign up for my newsletter and get updates on free books, giveaways, book reviews, and what's coming next.