Matthew C. Mitchell
< Back to author list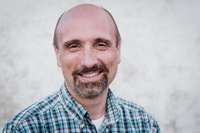 Matthew Mitchell is Heather's hubby and daddy to Robin, Andrew, Peter and Isaac. He has pastored Lanse Evangelical Free Church, a 120-year-old rural church parked along Interstate 80, since 1998. The Mitchells live in the woods of Central Pennsylvania with a flock of free-range chickens. They love to read books, play games and go for long hikes.
A graduate of Moody Bible Institute and Trinity Evangelical Divinity School, Pastor Matt received his doctorate in biblical counseling from Westminster Theological Seminary in 2012. Matt is active in his family of churches, the Evangelical Free Church of America, and is the book-review coordinator for EFCA Today. He loves getting to talk about Jesus at conferences, seminars, retreats and workshops.
Matt writes a blog about passionate truth called
Hot Orthodoxy
, where he posts his thoughts on pastoral ministry and biblical counseling, book reviews and sermon manuscripts, links to helpful and humorous places, glimpses into family life and personal reflections along the journey of following the Lord Jesus Christ with both head and heart.
Books By Matthew C. Mitchell
Displaying all 2 products