Paul O'Sullivan
< Back to author list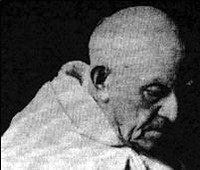 Fr. Paul Henry O'Sullivan, O.P., S.T.L., P.G., E.D.M., was born in Tralee, Ireland in 1871 and died in Lisbon, Portugal in 1958. At the age of 16, he entered the Dominican Novitiate and, then, he went on to Rome to complete his priestly studies and be ordained. He was sent to Lisbon for a period of convalescence. The moment he set foot on the soil of Portugal, his health improved and he undertook an apostolate, the likes of which is rarely the part of a single priest's accomplishment.
It was a dreadful time. In 16 years, there had been over 40 administrations and twenty revolutions. Father Paul grieved over these tragic happenings. He befriended the rich and the poor. When he spoke to the faithful, he referred with deep feeling to their outstanding devotion to the Blessed Sacrament and the Blessed Virgin Mary. Fr. O'Sullivan peered through the darkness that surrounded the Nation and beholding the glories of its religious past, he was fired up by apostolic zeal to devote his life and all his energies to the work of restoring the Faith in Portugal. All through his publishing career, he used the initials E.D.M. or Enfant de Marie, Child of Mary! What more glorious title can there be!
Catechism classes were organized on a larger scale than usual, conferences and retreats were multiplied. In 1922, he established a Catholic Press and began to publish Catholic magazines, books, pamphlets and instruction. The output was enormous. Through the years, he wrote on nearly every subject,
The Wonders of the Holy Name
,
How to be Happy – How to be Holy
,
The Life of St. Philomena
,
All About the Angels
,
The Secret of Confession
,
How to Avoid Purgatory
,
An Easy Way to Become a Saint
, and many more.
With the death of Fr. Paul O'Sullivan, there has passed away an outstanding Irish Dominican whose fame has spread far beyond the shores of his beloved Portugal, where he laboured in the vineyard of the Lord for sixty-three years. His wish to die on a feast of our Lady had been granted to him, for it was on the feast of the Presentation that our Lady came to present him to her Divine Son.