Roma Downey
< Back to author list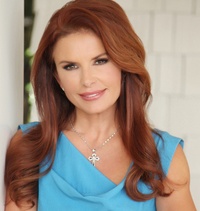 In a career spanning 25 years, Roma Downey has earned multiple Emmy® and Golden Globe nominations as an actress and a producer. Born in Ireland and classically trained in London, Ms. Downey has performed on stage with the famed Abbey Theatre Company and has appeared both on and off Broadway. Among her many television appearances Downey is probably best known for her starring role as Monica, the tender-hearted angel on the hit show "Touched by an Angel" which ran on CBS for almost a decade. She also played the leading role of Jackie Kennedy Onassis in the Emmy® award winning six-hour miniseries for NBC 'A Woman Named Jackie.' 
Downey is president of LightWorkers Media a joint venture with MGM. Downey along with her husband Mark Burnett produced the Emmy® nominated miniseries 'The Bible' for History Channel, which was watched by over 100 million people in the US alone. They also produced 'Son of God' the feature film that stunned the box office when it became the 2nd highest faith movie opening of all time. In 2016 Downey received the Irish Diaspora Award for Outstanding Contribution to the Screen from the IFTA as well as her star on The Hollywood Walk of Fame. The Hollywood trade publication Variety recognized Downey as a "Trailblazer" and listed her as Variety's '100 Most Powerful Women in Hollywood.' The Hollywood Reporter included her and Burnett as their 'Most Influential People of 2013'. In 2014, Downey won the 'Movie Guide Grace Award' for her role as Mother Mary. That same year, Downey was also honored on Variety's Women of Impact. 
In addition to "The Bible" and "Son of God", Downey and Burnett have produced numerous television series including "The Women of the Bible" for LIFETIME, 'The Dovekeepers' for CBS, 'A.D. The Bible Continues' for NBC, and " answered Prayers" for TLC.   They were also executive producers on the feature films " Little Boy" for Open Road Films, " Woodlawn" for PureFlix, "Ben-Hur"  for MGM and Paramount and the documentary "Faithkeepers" about the persecution of Christians and other minorities in the middle east. 
Downey's new venture LightWorkers.com, sees her label come to life as a digital platform and movement.  The mission of LightWorkers.com is to create and curate engaging, empowering and inspirational short-form content and to build a community of sharing, while igniting a movement in the real world that motivates people to share the good all around them.