Susan Thistlethwaite
< Back to author list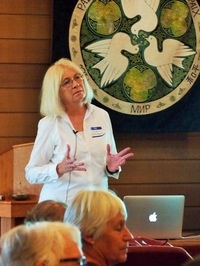 I am a Professor of Theology at Chicago Theological Seminary and the former President. I have written many academic books, but I love mystery fiction! I decided to try writing some mysteries and I am loving it. I also like hearing from readers.
I find, for myself, that mystery fiction can be a kind of psychological relief from our stressful times. You can relax into the mystery narrative and know that while bad things happen (it's usually a murder, after all!), there will also be truth and some measure of justice to restore a moral order.
Here are some Book Group discussion questions (they are also on my mystery website:):
1. How do our faith and/or values help or hinder us in addressing issues like sexual harassment either in our own lives, or in the lives of others?
2. Does Kristin Ginelli understand she's a teacher not a cop any more? Does she push Ay-seong too hard or not hard enough to find out what's going on?
3. Kristin is struggling with her own issues of personal grief and anger. Does this give her insight into the Kim family, or does she have trouble relating to the brother and sister because she does not understand her own limitations in regard to Korean culture?
4. Does Kristin begin to get some insight into her own white privilege from her interactions with persons of different races and cultures, and if so, how? If you think she fails, where does she fail and why?
5. What might Alice Matthews have to say about Kristin's barging ahead all the time?
6. Academic privilege is still alive and well on college campuses. How does that privilege intersect with white privilege? In other words, does Henry have the same access to power as Kristin?
7. A subplot is taking place in the quotations at the beginning of each chapter. Kristin starts out her new career as an academic thinking she can find mental refuge in ancient philosophy (Plato, Aristotle). Slowly, she begins to realize that power and privilege are masked by those abstractions. She starts thinking about power and privilege in real life as a subject for her dissertation. What helps YOU understand how to deal with power and privilege in the systems where you find yourself?
8. With which character, if any, did you identify?
I am also happy to discuss any of my non-fiction books with readers, as there are a lot of overlaps among the fiction and non-fiction, especially when it comes to violence against women.