Tricia-Anne Y. Morris
< Back to author list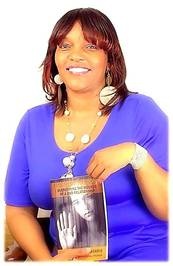 Tricia-Anne Y. Morris is a woman of God, wholly committed to her Christian Faith. She is dedicated to sharing the message of God's Love and believes that life begins only after we've invited God to be our Father, Husband, Way Maker, and Friend. Her Christian Faith has been nurtured by her relationship with God through the Holy Spirit, and the teachings she has received from her beloved church, Fellowship Tabernacle.
Tricia-Anne believes in the power of knowing who you are and living your full potential based on Kingdom principles. To this end, she most recently completed a certificate course at Whole Life College. She is also a Vice President of Anointed Words & Music, Inc. (USA), where she's a music minister, author and publisher.
Over the last 20 years, Tricia-Anne has given back to women and young adults in her capacity as a Life Coach, Mentor and Motivational speaker, spending much of her time helping them in personal and career development and in making right choices with respect to relationships, life planning, and spiritual growth.
Tricia-Anne is a Senior Executive of Social and Market Research, having worked in the field for more than 17 years. She is a PhD candidate in Management Studies and a Business Coach, working primarily with small businesses in the areas of business planning, strategic planning, marketing research, and branding. She was previously an adjunct Undergraduate Lecturer in Marketing, Business Research and Marketing Research and is a trainer in Focus Group Moderation, Quantitative Analysis, and Research Methods.
Tricia-Anne is also the author of From I Do to I Don't. In her book, Tricia-Anne writes about her experience, having been in an abusive relationship, and the strategies she used to heal from the relationship wounds. The book was also written to help women, men, and couples evaluate the quality of their relationship, heal from relationship wounds, and track their progress.
"I love sharing knowledge with others. Knowledge-sharing creates and engenders growth and success. I want to know that people are constantly growing and are being empowered in every area of their lives, in particular, their spiritual, emotional, relational and professional lives. I have a heart for women and young adults and believe I have a duty to help in any way I can by pouring into them, the way others have poured into me." (Tricia-Anne Y. Morris)
No results
We couldn't find a match for these filters.
Please try another choose.