Uwem Akpan
< Back to author list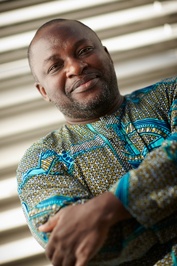 Uwem Akpan was born in Ikot Akpan Eda in the Niger Delta in Nigeria. Uwem's short stories and autobiographical pieces have appeared in the special editions of The New Yorker, the Oprah magazine, Hekima Review, the Nigerian Guardian, America, etc.
His first book, Say You're One of Them, was published in 2008 by Little, Brown, after a protracted auction. It made the "Best of the Year" list at People magazine, Wall Street Journal, and other places. The New York Times made it the Editor's Choice, and Entertainment Weekly listed it at # 27 in their Best of the Decade. Say You're One of Them won the Commonwealth Prize (Africa Region), the Open Book Prize, and the Hurston/Wright Legacy Award. The collection of short stories was the 2009 Oprah Book Club selection. A New York Times and Wall Street Journal #1 bestseller, it has been translated into 12 languages.
His second book and first novel, New York, My Village, will be published in Nov 2021 by WW Norton. In this immigrant story, Uwem writes about NYC with the same promise and pain we saw in his African cities of Say You're One of Them. "New York City has always mystified me since I first spent two weeks in the Bronx in 1993," he says. "It was only when I lived in Manhattan in 2013 that I began to understand the metro system, to visit the different neighborhoods, to enjoy the endless ethnic dishes. It didn't also take long before I discovered the city's crazy underbelly."
Uwem teaches in the University of Florida's MFA Program.
Books By Uwem Akpan
Displaying all 3 products