Vicki Watson
< Back to author list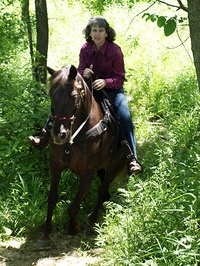 My love of horses began at the age of 8 when a teenage neighbor offered me my first horseback ride. Horses were to become a very important part of my life, although I never could have imagined, at the time, how much God would teach me about Himself and my relationship to Him through these wonderful animals.
The Sonrise Stable series combines my love of God and horses in stories designed to help children learn more about both. I have been blessed with three daughters and homeschooled each through high school. I enjoy trail riding my Rocky Mountain mare, Nikki, hiking, photography, and playing guitar. I work from home as a web designer.
Librarian Note: There is more than one author in the GoodReads database with this name. See this thread for more information.