William Rosen
< Back to author list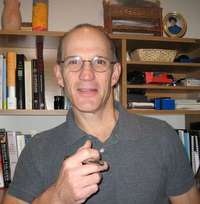 William Rosen was an historian and author who previously was an editor an publisher at Macmillan, Simon & Schuster, and the Free Press for nearly twenty-five years. He lived in Princeton, New Jersey.
From recent obituary
William Rosen PRINCETON JUNCTION Author William Rosen, 61, whose works of narrative nonfiction include "Justinian's Flea" and "The Most Powerful Idea in the World: The Story of Steam, Industry and Invention," died at home on April 28, 2016, of gastrointestinal stromal cancer, according to his agent. Born in California, Rosen worked for nearly 25 years as an editor and publisher at Macmillan, Simon and Schuster and the Free Press before becoming an author. With a writing style that used anecdotes to pull together the threads of discovery and innovation, Rosen authored or co-authored books on education, traffic, antibiotics, and climate change. Bill Gates said of Rosen's work, "Rosen argues that only with the ability to measure incremental advances--such as whether a lighter part lowers fuel consumption, or one engine produces more power than another--can you achieve sustained innovation. Rosen's view fits my own view of the power of measurement." Rosen grew up in Los Angeles, CA, attended UCLA and, after a brief stint at John Wiley and Sons, moved east for publishing. He edited books authored by George Will, as well as William Bennett, Bernard Lewis, Maya Lin, and Leon Kass. But he found true fulfillment writing books instead of only publishing them.
Books By William Rosen
Displaying all 2 products